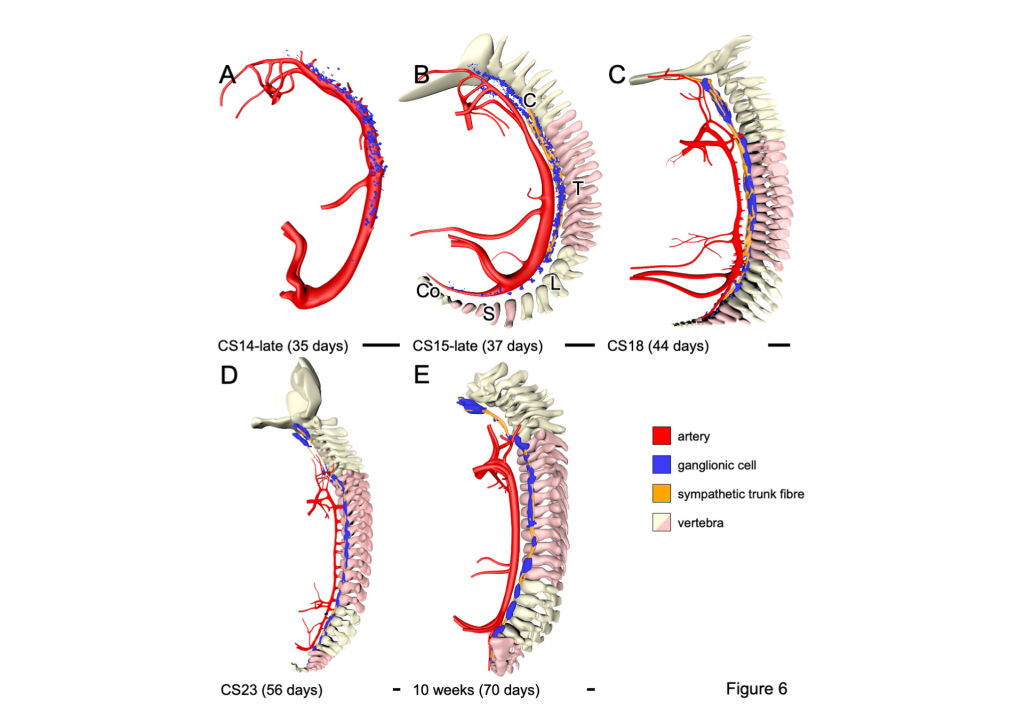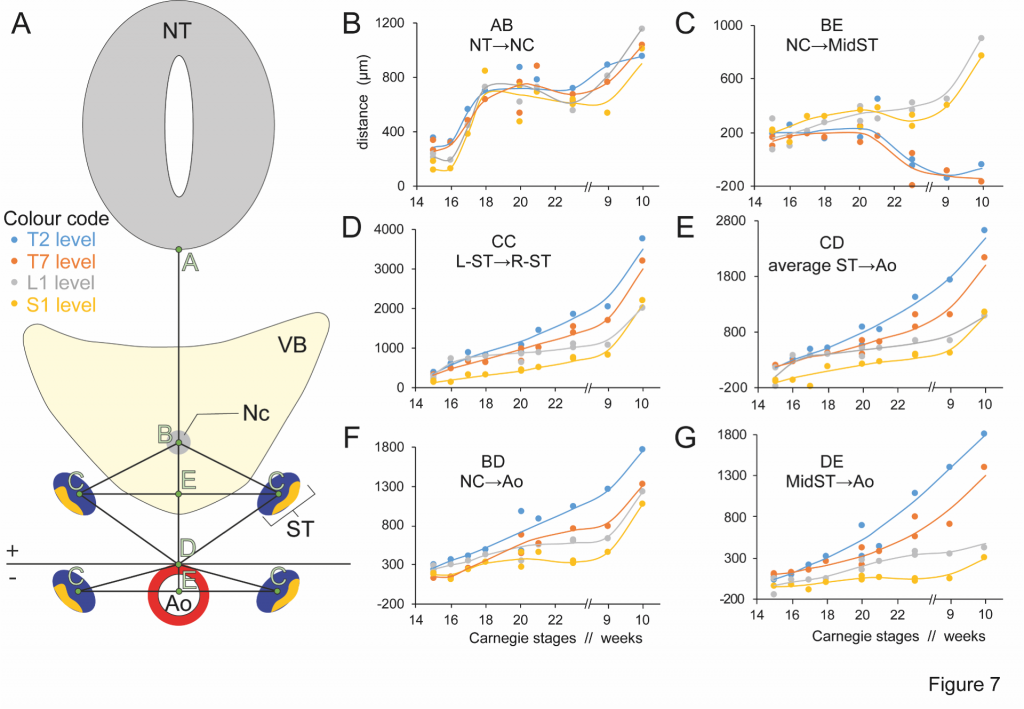 Highlight:
การเจริญพัฒนาการของ sympathetic trunk มีการเจริญที่แตกต่างกันของโครงสร้างแวดล้อม เป็นผลทำให้ตำแหน่งของ sympathetic trunk มีการเปลี่ยนแปลงระหว่างช่วง 4 – 10 สัปดาห์ของพัฒนาการในตัวอ่อนมนุษย์
ที่มาและความสำคัญ
sympathetic trunk เป็นหนึ่งในโครงสร้างที่เกี่ยวข้องกับการควบคุมกลไกของร่างกายให้ตอบสนองผ่านระบบประสาทอัตโนวัติ ในปัจจุบันได้มีคำอธิบายต่าง ๆ เกี่ยวกับการเจริญและพัฒนาของโครงสร้างนี้ทั้งในเชิงเซลล์ต้นกำเนิด การเปลี่ยนแปลง และเชิงโมเลกุลอย่างแพร่หลายมาอย่างยาวนานกว่า 100 ปี แต่ก็ยังคงพบว่าการอธิบายการเจริญพัฒนาไม่ได้แสดงถึงโครงสร้างโดยรอบของ sympathetic trunk รวมทั้งโครงสร้างของ sympathetic trunk เป็นโครงสร้างที่มีการทอดตัวยาวเกือบตลอดลำตัวของร่างกาย จากการที่ข้อมูลบางอย่างที่ไม่ครบถ้วน ทำให้เกิดคำอธิบายที่ขัดแย้งหรือแตกต่างกันออกไปเป็นหลายทฤษฎี ดังนั้นคำอธิบายที่ได้จึงไม่สามารถสะท้อนภาพการเจริญพัฒนาของ sympathetic trunk ได้อย่างแท้จริง ในปัจจุบันได้มีการทำการศึกษาเชิงโครงสร้างของตัวอ่อนมนุษย์โดยการสร้างภาพสามมิติเข้ามาช่วยอธิบายกลไกการเจริญพัฒนาอย่างแพร่หลายดังนั้นการนำเทคนิคภาพสามมิติมาใช้สร้างภาพการเจริญพัฒนาการของตัวอ่อนมนุษย์ จะช่วยให้การอธิบายกลไกการเจริญพัฒนาของ sympathetic trunk มีความสมบูรณ์มากขึ้น
Abstract
Although the development of the sympathetic trunks was first described >100 years ago, the topographic aspect of their development has received relatively little attention. We visualised the sympathetic trunks in human embryos of 4.5–10 weeks post-fertilisation, using Amira 3D-reconstruction and Cinema 4D-remodelling software. Scattered, intensely staining neural crest-derived ganglionic cells that soon formed longitudinal columns were first seen laterally to the dorsal aorta in the cervical and upper thoracic regions of Carnegie stage (CS)14 embryos. Nerve fibres extending from the communicating branches with the spinal cord reached the trunks at CS15-16 and became incorporated randomly between ganglionic cells. After CS18, ganglionic cells became organised as irregular agglomerates (ganglia) on a craniocaudally continuous cord of nerve fibres, with dorsally more ganglionic cells and ventrally more fibres. Accordingly, the trunks assumed a "pearls-on-a-string" appearance, but size and distribution of the pearls were markedly heterogeneous. The change in position of the sympathetic trunks from lateral (para-aortic) to dorsolateral (prevertebral or paravertebral) is a criterion to distinguish the "primary" and "secondary" sympathetic trunks. We investigated the position of the trunks at vertebral levels T2, T7, L1 and S1. During CS14, the trunks occupied a para-aortic position, which changed into a prevertebral position in the cervical and upper thoracic regions during CS15, and in the lower thoracic and lumbar regions during CS18 and CS20, respectively. The thoracic sympathetic trunks continued to move further dorsally and attained a paravertebral position at CS23. The sacral trunks retained their para-aortic and prevertebral position, and converged into a single column in front of the coccyx. Based on our present and earlier morphometric measurements and literature data, we argue that differential growth accounts for the regional differences in position of the sympathetic trunks.
KEYWORDS
ganglionic cells, nerve fibres, neural crest cells, para-aortic, para-vertebral, primary and secondary sympathetic trunks
Citation
Kruepunga, N., Hikspoors, J., Hülsman, C. J. M., Mommen, G. M. C., Köhler, S. E., & Lamers, W. H. (2021). Development of the sympathetic trunks in human embryos. Journal of Anatomy. doi:10.1111/joa.13415
SDG Goal หลัก ที่เกี่ยวข้อง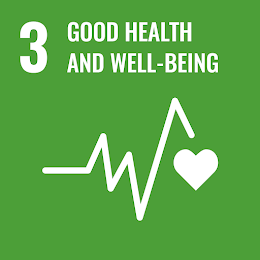 SDG Goal ที่เกี่ยวข้องอื่น ๆ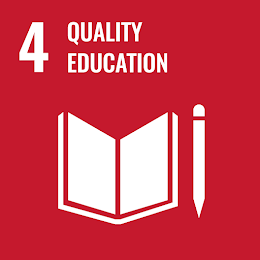 ผู้ให้ข้อมูล: อาจารย์ ดร.ณัฐเมธี เครือภูงา
ชื่ออาจารย์ที่ทำวิจัย: อาจารย์ ดร.ณัฐเมธี เครือภูงา
Tags: ganglionic cells, nerve fibres, neural crest cells, para-aortic, para-vertebral, primary and secondary sympathetic trunks